Last Updated: July 1, 2021
Click above to watch the video
---
Shaker cabinet doors are a timeless and simple style. With the right tools they can also be easy to make. You may also hear this style of cabinet door called "frame and panel" or " flat panel". For this project, I used the table saw to cut the dados (grooves) and the tenons and made 8 doors in not much more time than it would have taken to make 1 or 2. See them in the finished project – a full wall of built-in cabinets and bookcases!
A shaker-style cabinet door is made up of 2 stiles, 2 rails, and a panel. A good way to remember which pieces go where is the mnemonic, "the Stiles go on the Sides". I'm using soft maple for the frame pieces and 1/2" birch plywood for the panel. The thicker panel is more sturdy and feels more substantial. Just make sure that your frame pieces are thick enough to cut 1/2" away and still have strong enough sides that won't crack or break.
After I milled the frame pieces to width and thickness, I cut them to length. The panel also gets ripped to length on the table saw and then crosscut with a circular saw and track.
The layout of the dado and tenons is important, but once I work it out a marking gauge and combination square make easy work of getting accurate, repeatable lines.
The dados are cut in each of the frame pieces by first using a test piece to get the fence position right and then making the cuts on the door frame pieces. Running a piece across the table saw, flipping it around, and running it through again makes a perfectly centered groove. I then just have to cut out the middle part.
The tenons are cut with a miter gauge that has a stop that ensures every piece gets the same sized tenon.
When test fitting the tenons into the dado I use a shoulder plane to make a great fit. I use a chisel to even out the bottom of the groove. Sometimes the cut is not perfectly flat due to various reasons.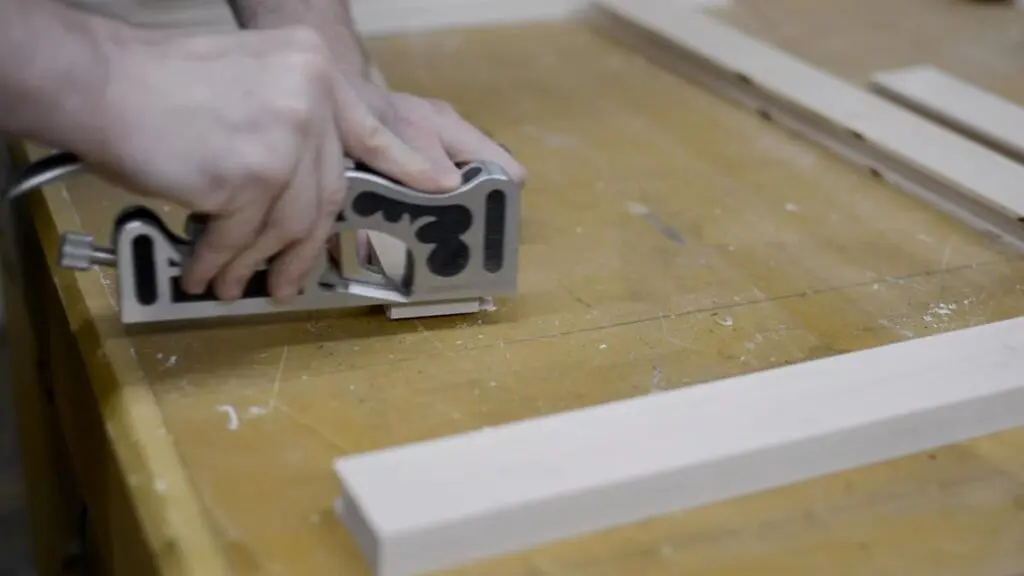 Once I get as close to a perfect fit as I can get, I use a square to check the dry assembled frame.
I cut the panel to leave about 1/16" on each side for possible wood expansion. Plywood doesn't really move much but it's better to be safe and it doesn't hurt anything.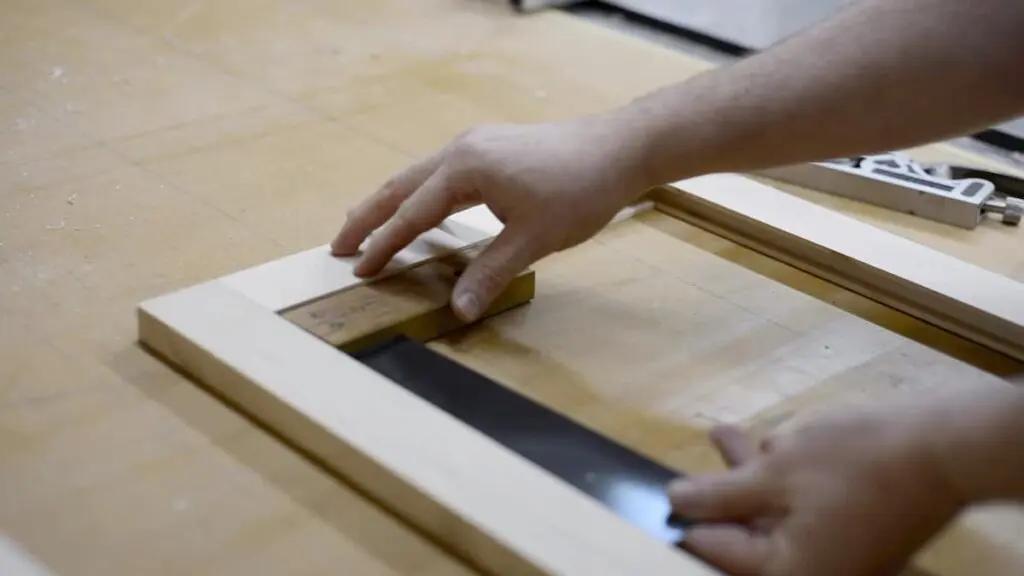 The next step is to thoroughly sand each part before the glue-up. I like to use a random orbit sander in this phase and then fine-tune with a hand plane and sandpaper after it dries.
If I've done a good dry fit and thought through the process, the glue-up should go without any problems. I spread glue in the area of the dado that will receive the tenon and also cover the tenon itself before putting it all together.
I apply clamps to squeeze the joints tight and then wipe away any glue.
I don't want the clamps to warp the angles of the door so I check square one last time by measuring from each corner. If each of the two measurements are the same, then I have four corners that are very close to 90 degrees.
Once the door dries I do a final sanding with the random orbit sander to remove any dried glue and even the joints.
Using a plane I break the edges of the door to give them a rounded over feel. This step is one of those things that can go a long way toward giving your project a professional look and feel.
Like just about any woodworking project, your doors can be finished in several different ways. Mine are going to be painted, but you can stain and clear coat yours or just put a clear coat over the natural wood. Special care has to be taken if you are going with natural wood – you'll most likely want to spend quite a bit of time selecting wood that matches for each door and also make a solid wood panel that matches the frame.
These doors can be made inset, like mine are, where the door is flush with the cabinet frame or as overlay doors that sit on top of the cabinet frame. There are also a wide range of hardware options to mount the door on hinges and handles (or no handle) to attach. Some styles also include molding around the inside of the frame.
The shaker door is a beautifully simple design to start with and then fit to your taste and style.
---
Don't Waste Your Money on Tools You Don't Need
Get My Free Download that lists the exact tools & materials you need to create amazing projects
...for the beginner to advanced woodworking shop
We will never share your email address and you can unsubscribe at any time.